Dr. Suresh Kumar Abrol

Consultant - General Surgery, Moolchand General and Advanced Laparoscopic Surgery Institute

MBBS, MS (General Surgery) , Fellowship

42 Years

1,650
| | | | | | | | |
| --- | --- | --- | --- | --- | --- | --- | --- |
| | Mon | Tue | Wed | Thu | Fri | Sat | Sun |
| 09 am-04 pm | | | | | | | |
| 09 am-04 pm | | | | | | | |
| 09 am-04 pm | | | | | | | |
| 09 am-04 pm | | | | | | | |
| 09 am-04 pm | | | | | | | |
| 09 am-04 pm | | | | | | | |
| | | | | | | | |
| --- | --- | --- | --- | --- | --- | --- | --- |
| | Mon | Tue | Wed | Thu | Fri | Sat | Sun |
About me
As a highly skilled laparoscopic surgeon, I am dedicated to providing my patients with the best possible surgical care. I have extensive experience and training in performing laparoscopic procedures, which are minimally invasive surgeries that offer many benefits over traditional open surgeries, including faster recovery times, less scarring, and reduced pain and discomfort.

Throughout my career, I have performed a wide range of laparoscopic surgeries, including procedures for the gallbladder, appendix, hernia, and more. I use the latest surgical techniques and technologies to ensure that my patients receive the best possible care and outcomes.

Medical expertise
Advanced Laparoscopic Surgery | Hernia Surgery | Perianal surgery, colono-rectal surgery | Breast Surgery | Thyroid and salivary gland surgery | Conventional and trauma surgery
My education and training
| | |
| --- | --- |
| MBBS | Maulana Azad Medical College (1975) |
| MS (General Surgery) | Maulana Azad Medical College (1980) |
| Fellowship | Minimal Access Surgery IAGES (2016 ) |
My publications and papers
Manuscript entitled "Cellular immunity and prognosis of human mammry carcinoma" published in Indian Journal of Medical Research. 1984 February; pp 199-206
What I'd like to tell my patients
At the heart of my practice is a commitment to excellence, compassion, and personalized care. I am honored to have the opportunity to serve my patients and help them achieve their best possible health through advanced laparoscopic surgery techniques.

Senior Consultant

MS, MBBS, Other...

22 Years

Mon - Sat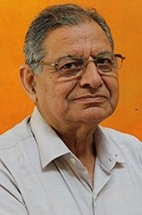 Senior Consultant

MS, MBBS, Other...

42 Years

Mon - Sat