| | | | | | | | |
| --- | --- | --- | --- | --- | --- | --- | --- |
| | Mon | Tue | Wed | Thu | Fri | Sat | Sun |
| 09 am-02 pm | | | | | | | |
| 09 am-02 pm | | | | | | | |
| 09 am-02 pm | | | | | | | |
| 09 am-02 pm | | | | | | | |
| 09 am-02 pm | | | | | | | |
| 09 am-02 pm | | | | | | | |
| | | | | | | | |
| --- | --- | --- | --- | --- | --- | --- | --- |
| | Mon | Tue | Wed | Thu | Fri | Sat | Sun |
About me
With my passion to treat any case be it complicated or easy, I find immense internal satisfaction in enabling people return to their healthier selves and happier lives. It is a unique mix of knowledge, humanitarian values and medical ethics that forms the basis and foundation of my practice.
Over 12+ years, I have been part of Moolchand and have treated various patients competently and diligently. I work with a multi-disciplinary team of doctors to provide the best treatment to my patients. I routinely perform minimally invasive procedures like laparoscopic adjustable gastric band, single-incision laparoscopic surgery (SILS), gastrectomy, aspiration of liver abscess, and more. My areas of interest and expertise are gastroenterology, laparoscopy and bariatric surgery.
I am member of editorial boards of various Indian and international journals. I have also trained nurses and paramedical staff at various medical institutions including Moolchand.

Medical expertise
Aspiration of liver abscess | Bariatric surgery | Bypass for cancer of pancreas | Cholecystectomy | Hepatic resection | Hernioplasty | Gastrointestinal surgery | General surgery | Laparoscopic colon resection | Laparoscopic rectopexy | Re-do rectal surgery | Single-port laparoscopic cholecystectomy | Stapled hemorrhoidectomy | Strictureplasty | Treatment of adult obesity | Treatment of childhood obesity | Volvulus surgery
My education and training
| | |
| --- | --- |
| MS | Surgery, MAMC, New Delhi, India (1996) |
| MBBS | MAMC, New Delhi, India (1992) |
Others
Fellowship in Minimal Access Surgery (FMAS), Sir Ganga Ram Hospital, New Delhi, India (2001)
My publications and papers
"Case report: Myxoid Liposarcoma of the Skin-Rare Case with Multifocal Presentation", Journal of Clinical and Experimental Dermatology Research (2015)
"Case report: Group 'G' B-Hemolytic Streptococcus a New Important Causative Organism of Localised Intra-Abdominal Abscess", Journal of Clinical Case Reports (2013)
"Case report: Role of Hyperbaric Oxygen Therapy in Management of Complicated Case of Fournier Gangrene to Improve Patient Outcome", Journal of Clinical Case Reports (2012)
"Solitary Thyroid Module Treatment Protocol" article published in Indian Journal of Endocrinology and Metabolism (1998)
Thesis and research work: "A Study on Turp Syndrome" (1996)
My awards and accomplishments
Chairperson and expert speaker for "End Stage Renal Diseases with Hypertension, NIDDM and GI Bleeding", SLS Multispecialty Summit (2017)
Chaired seminar on "New Frontiers in Surgery: Robotics", Max Healthcare (2016)
Chaired seminar on "Acute Abdomen Clinical Approach", AIIMS, New Delhi (2014)
Chaired conference on "Hernia: New Controversies", Surgery Update annual conference, Mumbai (2005)
Expert speaker on "GI Bleeding" at the Association of Surgeons of India's annual conference at RML, New Delhi (2011)
Instructor, advanced laparoscopic surgery trainings at Moolchand (since 2008)
Delivered lectures on practicalities of surgery to train nurses and paramedical staff, trained DNBs at Moolchand Medcity (2008-2012)
Clinical attache at South Shield Hospital, UK, for advanced gastrointestinal surgeries (2002)
Visiting faculty at HAHA, Majeedia Hospital, Jamia Hamdard, New Delhi (2002-2010)
What I'd like to tell my patients
What it means to be a "good doctor"? I often ask this question to myself!
I believe that a good doctor strives for continuous improvement, implements quality control system and eliminates any scope of medical negligence. Today, a lot of people meet doctors with apprehensions about being prescribed a surgery that might not be necessary. Many times, poor communication by their doctor makes the patients fearful of being misguided. Many of them go window shopping to find the right doctor.
My only advice to all my patients is that once you have decided on your doctor, then be positive and trust him. Trust in the doctor–patient relationship is considered to be the first prerequisite for good medical care and it goes a long way in helping patients heal. Trust also affects important behaviours and attitudes of patients, like their willingness to seek care, reveal sensitive information, submit to treatment and comply with the recommended therapy.
When a patient walks in my office, I engage in friendly chitchat with him or her to make the patient feel comfortable. Then, we move into the physical exam and diagnostic findings. A little empathy goes a long way in comprehending the patient's condition correctly. I treat my patients the way I would want my own family members or myself to be treated. This helps me engage with my patients' situation more closely.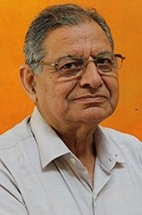 Senior Consultant

MS, MBBS, Other...

42 Years

Mon - Sat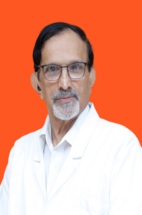 Consultant

MBBS, MS (Gener...

42 Years

Mon - Sat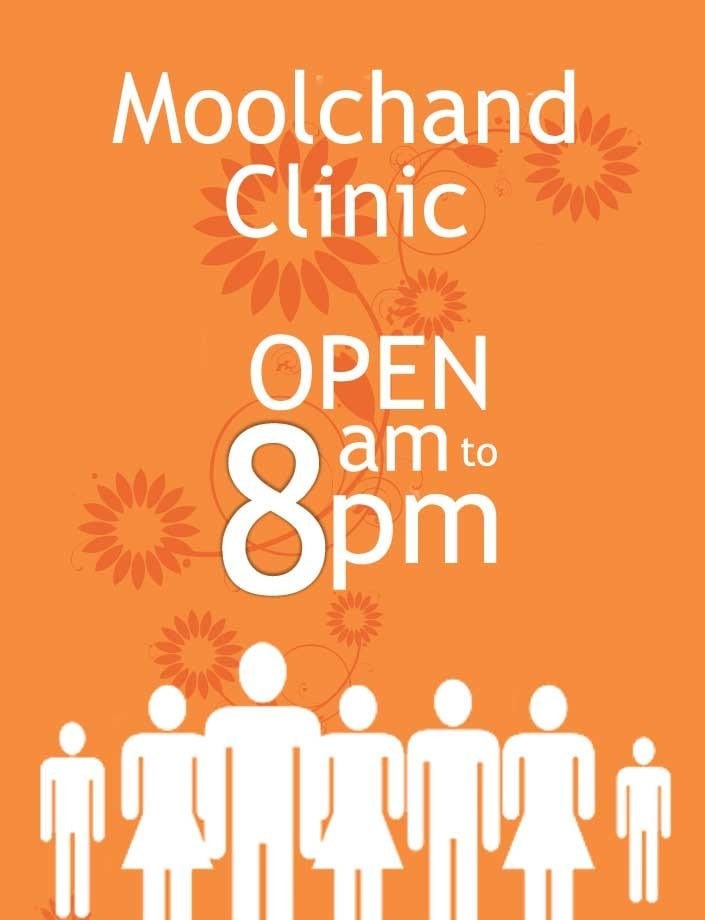 Vigari D (Feedback By Son Bhupal Singh)
Housewife
"They truly focus on complete wellness!"
When I brought my mother to Moolchand, she was in acute abdominal pain. She had been feeling extremely weak and was not able to digest food for over 3-4 days. Dr. Shiv Chopra did the necessary investigation and diagnosed her with deep seated infection to the epigastric region. I must say that Dr. Shiv Chopra is the best at what he does; his thorough examination to help address my mother's needs shows his diligence and dedication to heal patients. My mother's condition has vastly improved and she is totally pain free.

Moolchand certainly has awesome doctors like Dr. Shiv Chopra who ensure that patients' treatment and recovery goes as smooth as possible. Highly recommended! Five stars to Dr. Shiv Chopra and Moolchand!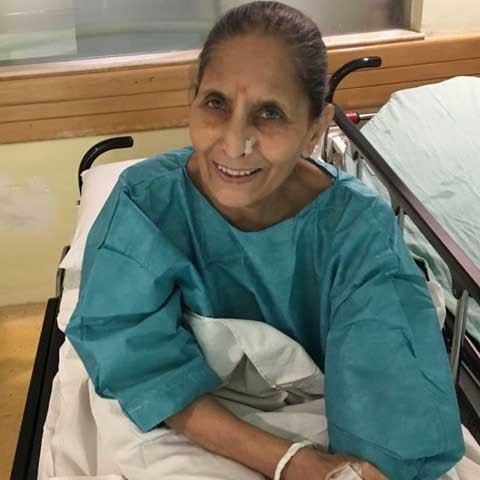 Mrs. Rama K
"A big "Thank You" for the medical care you provided (for my mother)!"
When medications failed to resolve my mother's condition, I researched all the options and decided to bring her to Moolchand for a comprehensive checkup and treatment. She was diagnosed with persistent pancreatitis and multiple gallbladder stones.

Walking into Moolchand, I was much impressed by the clean wards and waiting areas. My mother's information was taken in a comprehensive manner. She was seen at her appointment time and taken back to the examination room where the wait was minimal. When we met Dr. Harsh Kapoor and Dr. Shiv Chopra, they made us very comfortable and explained why surgery was the best option for treating my mother's condition. Dr. Shiv Chopra and Dr. Harsh Kapoor removed my mother's biliary stones via innovative procedure called ERCP and performed biliary stenting. She was saved only because of strong surgical and medical care that helped control her condition.

The surgical team as well as the nurses focused on my mother's fast recovery and ensured that her hospital-stay remains as comforting as possible. Overall this was a great experience and we will recommend Dr. Harsh, Dr. Shiv and Moolchand Hospital to others!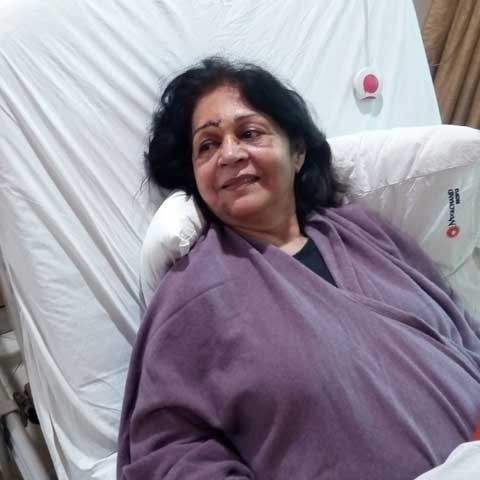 Romila P
Housewife
"Delighted by services at Moolchand! Great hospital!"
After a slip-and-fall accident at my home, I sustained a laceration on my forehead and my right wrist got fractured. I was brought at Moolchand's ED where a senior resident, Dr. Ashish, stabilized my fracture and sutured the wound with great precision and care. However, the pain-killers that I took caused GERD and severe heartburn for which I was re-admitted as a patient of Dr. Shiv Chopra. My husband and I were delighted by the professional and courteous doctor. Excellent care and hospitality shown by hospital management, Dr. Shiv, the nurses and floor staff really made us feel at home. Thanks a lot for your cooperation.

Half of my illness was cured by the way Dr. Shiv and the staff interacted with us. I am thoroughly appreciative of what Moolchand and its doctors have done for me.