| | | | | | | | |
| --- | --- | --- | --- | --- | --- | --- | --- |
| | Mon | Tue | Wed | Thu | Fri | Sat | Sun |
| 10 am-07 pm | | | | | | | |
| 10 am-07 pm | | | | | | | |
| 10 am-07 pm | | | | | | | |
| 10 am-07 pm | | | | | | | |
| 10 am-07 pm | | | | | | | |
| 10 am-07 pm | | | | | | | |
| | | | | | | | |
| --- | --- | --- | --- | --- | --- | --- | --- |
| | Mon | Tue | Wed | Thu | Fri | Sat | Sun |
About me
I am a well-qualified paediatrician with 10+ years of experience, 5 of which I have spent as an associate consultant at Moolchand. I hold expertise in neonatal intensive care and paediatric intensive care, and specialise in developmental supportive care of babies. I also have interest in adolescent medicine and childhood nutrition.
From the time when I started my paediatrics practice, I knew I had picked the right specialty, mainly because paediatrics is the most holistic of the medical specialties. Each day I feel grateful to have an opportunity to meet a child's medical needs and help him or her recover from illness. It is a rewarding and long-term relationship that I cherish with my young patients.

Medical expertise
Birth asphyxia management | Birth trauma | Childhood nutrition | Complication with low birth weight (LBW) babies | Extreme immaturity of organs at birth | Meningococcal disease | Neonatal intensive care | Paediatric emergencies | Preventive medicine and immunization | Resuscitation of the newborn
My education and training
| | |
| --- | --- |
| MD | Paediatrics, University of Delhi (2010) |
| MBBS | University of Delhi (2005) |
My publications and papers
"Intestinal Obstruction in a Premature Baby: Endoscopic Diagnosis and Management by Minimal Access Surgery", Journal of Indian Association of Pediatric Surgeon (2013)
Thesis: "Study of the Incidence of Vitamin D Deficiency in Low Birth Weight Babies" (2010)
My awards and accomplishments
Life member, Indian Academy of Paediatrics (IAP)
What I'd like to tell my patients
Practicing general pediatrics often feels like searching for a needle in a haystack. Hidden in a sea of various symptoms, there is an accurate diagnosis which an astute pediatrician must not overlook.
Babies and toddlers cannot tell what is wrong or how they are feeling. A change in behavior may be one of the first signs that a baby isn't feeling well. So, I suggest parents use a baby tracker (a daily log) to record notable events as well as their infants' feeding, eating, diapering or toileting and nap routines. Knowing the last time your baby ate, had a diaper change, was put for a nap or was given medicine is vital information to take good care of your child. If your child shows any unusual signs (such as irritability, sleeplessness, low activity level, etc.) you must note those signs and discuss with me.
I meticulously take note of my young patients' medical and family history and use a child-friendly style. Working closely with a multi-disciplinary team of neonatologists and NICU specialists, I ensureholistic solutions through an evidence-based approach to treat even the simplest paediatric health problems. I make every effort to provide the best care possible so that the ill-appearing child goes home happy and satisfied. No matter what the illness is, I ensure that the child thrives and reaches his or her maximum potential of development, because for me each child is a special individual, not just a small adult.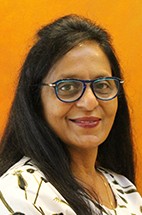 Consultant

MRCP, MD, MBBS,...

32 Years

Mon - Sat