We do what's right for you...
Browse
HIDE
Patients and their families from more than 50 countries around the world have benefited from our half-century old tradition of excellence in healthcare. Our excellence has led to Moolchand being a preferred choice for many VIP's including international diplomats and business leaders. Here is what some of our patients have to say about their Moolchand experience.
Real patients...Real stories
"Thank you Moolchand for giving my mom a new lease of life"
For the last 25 years Moolchand has been my family's healthcare provider of choice because we can count on Moolchand to do what is right for us. During my mom's recent life threatening illness we had lost all hope. However, Dr. Anand's empathy and wisdom along with the excellent care delivered by Moolchand's world class intensive care team saved my mom's life. It's great to have a trustworthy hospital like Moolchand in our lives.
Vivek S
Son of an 80 year old patient
Wonderful doctors and courteous staff! They are the "Best" in every way!
I believe that a pediatrician who is a parent is far more familiar with what you're going through. Each time I meet Dr. Shekhar at Moolchand my belief gets more strengthened. He easily understands my concerns on a level that may be a non-parent pediatrician won't. I like his prompt communication and friendly approach. Put simply, I know he is there for me and my family.

Also, the warm and inviting atmosphere and courteous staff at Moolchand - all indicate that each visit to this hospital will be a positive one. The doctors are wonderful here and the entire staff is courteous and professional. They are the "Best" in every way!
Sajal Singh
(with son Shashwat Singh)
Knowledgeable and personable pediatricians at Moolchand!
Being a doctor, I know practicing paediatrics can be funny, weird and exhausting — to be precise, it could be very challenging with fearful, temperamental and curious toddlers. So, not everyone can be a pediatric doctor.

I have been visiting Moolchand many times. This time it was for my son Adheer, who is bit mischievous and moody. Definitely, I was anxious during his wellness check-up and vaccination. However, my anxiety was soon put aside when I met Dr. Shekhar Vashist – a pediatrician with outstanding experience and calm personality. He ably handled all my concerns and seemed so assuring, just with his presence and way of communication. I felt so feel comfortable asking him questions about my son's health. For sure, Dr. Shekhar is a personable pediatrician with great qualities!
Dr. Zulehuma
Mother of baby Abheer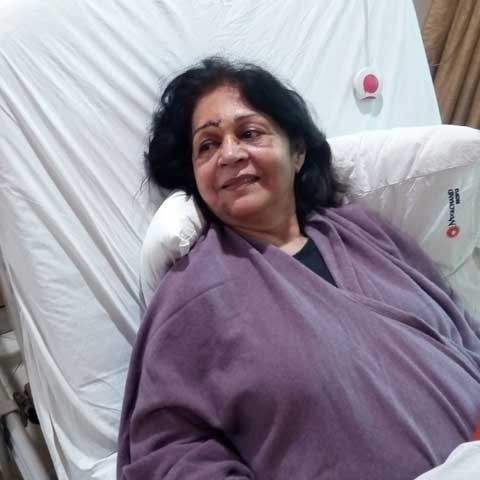 Delighted by services at Moolchand! Great hospital!
After a slip-and-fall accident at my home, I sustained a laceration on my forehead and my right wrist got fractured. I was brought at Moolchand's ED where a senior resident, Dr. Ashish, stabilized my fracture and sutured the wound with great precision and care. However, the pain-killers that I took caused GERD and severe heartburn for which I was re-admitted as a patient of Dr. Shiv Chopra. My husband and I were delighted by the professional and courteous doctor. Excellent care and hospitality shown by hospital management, Dr. Shiv, the nurses and floor staff really made us feel at home. Thanks a lot for your cooperation.

Half of my illness was cured by the way Dr. Shiv and the staff interacted with us. I am thoroughly appreciative of what Moolchand and its doctors have done for me.
Romila P
Housewife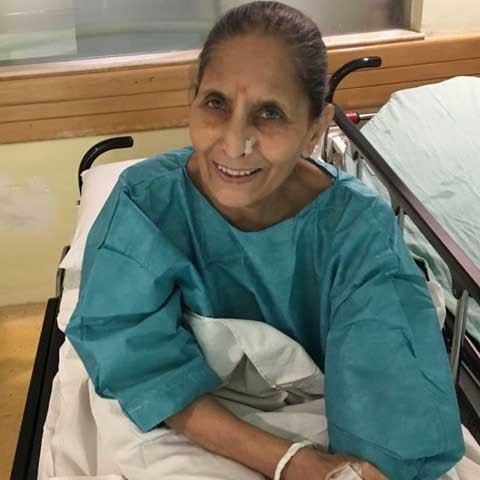 A big "Thank You" for the medical care you provided (for my mother)!
When medications failed to resolve my mother's condition, I researched all the options and decided to bring her to Moolchand for a comprehensive checkup and treatment. She was diagnosed with persistent pancreatitis and multiple gallbladder stones.

Walking into Moolchand, I was much impressed by the clean wards and waiting areas. My mother's information was taken in a comprehensive manner. She was seen at her appointment time and taken back to the examination room where the wait was minimal. When we met Dr. Harsh Kapoor and Dr. Shiv Chopra, they made us very comfortable and explained why surgery was the best option for treating my mother's condition. Dr. Shiv Chopra and Dr. Harsh Kapoor removed my mother's biliary stones via innovative procedure called ERCP and performed biliary stenting. She was saved only because of strong surgical and medical care that helped control her condition.

The surgical team as well as the nurses focused on my mother's fast recovery and ensured that her hospital-stay remains as comforting as possible. Overall this was a great experience and we will recommend Dr. Harsh, Dr. Shiv and Moolchand Hospital to others!
Mrs. Rama K
They truly focus on complete wellness!
When I brought my mother to Moolchand, she was in acute abdominal pain. She had been feeling extremely weak and was not able to digest food for over 3-4 days. Dr. Shiv Chopra did the necessary investigation and diagnosed her with deep seated infection to the epigastric region. I must say that Dr. Shiv Chopra is the best at what he does; his thorough examination to help address my mother's needs shows his diligence and dedication to heal patients. My mother's condition has vastly improved and she is totally pain free. Moolchand certainly has awesome doctors like Dr. Shiv Chopra who ensure that patients' treatment and recovery goes as smooth as possible. Highly recommended! Five stars to Dr. Shiv Chopra and Moolchand!
Vigari D (Feedback by Son Bhupal Singh)
Housewife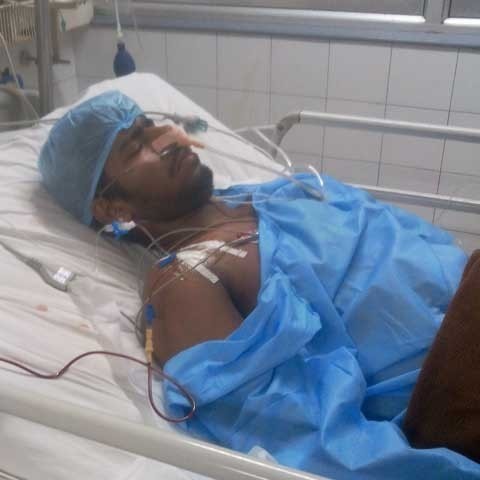 Capable hands and caring ways!
My brother, Sunil Kumar was suffering from a life threatening condition "necrotizing pancreatitis" until Dr. Shiv Chopra saved his life. Sunil was admitted to Moolchand with severe symptoms and needed immediate care. Dr. Shiv Chopra took care of him with utmost thoroughness and precision. I am impressed by Dr. Chopra's compassion, promptness and willingness to schedule the laprostmomy as soon as possible. The surgery was a success!

I can't praise Dr. Chopra and Moolchand enough – my brother is perfectly alright now! It has been nothing short of an amazing experience here at Moolchand.
Ashish K
Brother of Sunil K