Dr. Pankul Mangla

Consultant - Respiratory, Respiratory and Chest Medicine

MD, MBBS, Others

8 Years

1,350
| | | | | | | | |
| --- | --- | --- | --- | --- | --- | --- | --- |
| | Mon | Tue | Wed | Thu | Fri | Sat | Sun |
| 10 am-07 pm | | | | | | | |
| | | | | | | | |
| --- | --- | --- | --- | --- | --- | --- | --- |
| | Mon | Tue | Wed | Thu | Fri | Sat | Sun |
About me
I have done bronchoscopies (washings, brush biopsies , forceps biopsy, TBLB),
C-TBNA, EBUS-TBNA , pulmonology rapid onsite evaluation, radial EBUS with fluoroscopy and cryo TBLB of mass lesion, chest tube insertion, pleurodesis, central line insertion (internal jugular and subclavian vein), endotracheal intubation with laryngoscope and bronchoscopy, percutaneous tracheostomy, arterial lines. I am trained in rigid bronchoscopy and usage of accessory forceps, tumour debulking, balloon dilatation, argon plasma coagulation, cryotherapy, insertion of indwelling pleural catheter, thin and ultrathin bronchoscopy, intranodal cryo-TBNA, insertion of straight self expanding metallic stents, y stents and silicon stents, removal of stents, ultrasound guided pleural fluid tapping, FNAC and biopsy of lung mass.
Medical expertise
COPD | Asthma | ILD | TB | Autoimmune Illness | Lung Cancer | Central Airway Tumors | Airway Stenosis | Pneumonia | Plural effusion
My education and training
| | |
| --- | --- |
| MD | Sri Ramachandra Medical College, Chennai (2015) |
| MBBS | Sri Ramachandra Medical College, Chennai (2009) |
Others
Fellowship in interventional Pulmonology & Thoracic Oncology, Rajiv Gandhi Cancer Institute & Research Centre, Delhi (2023)
My publications and papers
Flexible Fibrotic Bronchoscopy in the removal of longstanding foreign body, Journal of Medical and Dental Sciences, 2015
My awards and accomplishments
Predictive Ability Of STOP BANG and Epworth Sleepiness Scale in Identifying OSA in a Resource Limited Set Up, NAPCON 2013
Gold medal in MD Pulmonary Medicine, 2015
Felicitated with COVID warrior award by Delhi Health Minister, 14th March 2021
Awarded Chikitsa Seva Ratna Puraskar, Honourable Speaker of Delhi Legislative Assembly, 12th sept 2021
What I'd like to tell my patients
I evaluate my patients respiratory issues and diagnose it appropriately and start them on medication so that they are on road to recovery. Recent advances in the diagnostic and therapeutic modalities in respiratory medicine help in depth evaluation of patients and alleviating medical issues.
The latest advances in the intervention pulmonology help in evaluation of lung masses & nodes, airway tumors and obstructions and pleural effusion.
I tell my patients, it is important for you to reach out to me when you experience the slightest respiratory problem. Often people ignore respiratory issues till they become critical and urgent. It is always better to nip the problem in the bud.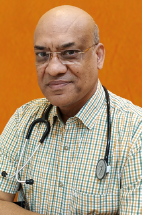 Consultant

MD, MBBS, Other...

37 Years

Mon - Sat